PORCELAIN CROWNS & BRIDGES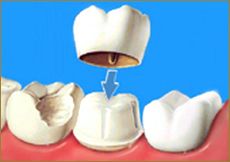 What is a crown?
A crown ("cap") is a covering placed over a tooth. Crowns serve many functions, such as strengthening, restoring and improving the appearance of your tooth. A crown can support the tooth when there is no longer sufficient structure left to place a filling. Crowns may also be used to protect the structure of a tooth that is fractured or broken, and can be attached to bridges or dentures.
All Porcelain Crowns and Bridges
We recommend all porcelain crowns and bridges. Dental porcelain can be sculpted to closely replicate the look of natural tooth enamel, while providing desirable strength and resilience. Porcelain crowns are an excellent choice when recreating the form and function of a damaged tooth, because a crown basically replaces the entire external portion of the tooth down to the gum level. Crowns are not limited to simply replacing the original tooth, but can be designed to create an even better esthetic appearance.
The Hows and Whys of Porcelain Crowns
Porcelain crowns replace the exterior portion of a tooth to re-establish its original function and to create a natural appearance. Crowns are the treatment of choice in situations where tooth decay has destroyed most of the original tooth, when a traumatic event has caused damage, or in cases of severe enamel erosion. They are also an option for people who grind and clench their teeth so much that the original structure of their teeth has been compromised.
The great benefit to porcelain crowns is they can not only replicate the original tooth in function, but can be designed to look like the original--or even better. When patients select a porcelain veneer for cosmetic reasons, they're usually covering up the front portion of the tooth that has some esthetic flaw. A porcelain crown is thicker than a veneer and, in some situations, this thickness is needed. A porcelain crown can be used for cosmetic reasons, but it's best to seek the advice of an AACD member dentist.
Crowns and veneers are situated and secured in the mouth in a similar fashion, using a light-sensitive resin placed between the original tooth and crown, and then hardening that resin with a special curing light.
Partial crowns, often referred to as onlays, are a type of restoration or filling that covers one or more cusps. An inlay is similar to a filling but the work resides completely within the cusps on a tooth's chewing surface. These restorations are much more conservative than crowns, and can be imperceptible from your natural tooth.